Lighting is evolving, both in terms of its efficiency and functionality but also how businesses interact with their lighting infrastructure.
With media reports predicting wholesale energy prices will remain high for the next three years, the impact of lighting on business operational costs is real. For cost-conscious organisations on a pathway to deeper decarbonisation – or even Net Zero emissions – it's clear that lighting needs to be an area of focus and investment.
Many businesses report that financial challenges stand in the way of implementing such projects. This is something Journey recognised a long time ago. Our solution is service-based model that removes all of the barriers and hassle associated with replacing outdated lamps and investing in modern, highly energy efficient LEDs.
Lighting as a Service (LaaS) is similar to contract hire. It's all about predictability, taking away hassle and keeping costs under control. We've taken this concept and made it work seamlessly for carbon-conscious and cost-sensitive businesses.
Here's everything you need to know……
What is Lighting as a Service (LaaS)?
Lighting as a Service (LaaS) provides a cost-effective solution to businesses that helps free up capital for other uses. From a customer perspective, it means you can upgrade to the latest, efficient LED lighting – but without the need for capital outlay. What's more, you're able to handover everything associated with the care, maintenance, and performance of your lighting system for the life of the contract.
How does it work?
There are four simple steps to benefitting from LaaS.
We undertake a lighting and energy audit to accurately forecast your energy & carbon savings.
Our experts design a customised lighting solution designed and specified to enhance your location and maximise projected energy savings.
Once the design and cost modelling is agreed, we'll deliver the lighting installation in a way that minimises disruption to your business operations.
During the operational phase, your lighting scheme benefits from wraparound support that includes maintenance and the replacement of fittings if anything fails. [All of this is included within the monthly service costs].
Sounds good, but how will it help with our Net Zero goals?
Typically, savings of at least 60% on electricity use are achieved. As lighting usually accounts for 40% of a building's electrical energy use1 – this can be a considerable saving on your carbon footprint. We'll supply estimations (using proven methodologies) that show the predicated carbon savings CO2T (and cost savings) against a baseline.
Why is 'now' the right time to consider Lighting as a Service?
The latest British Chamber of Commerce Quarterly Economic survey revealed that business investment flatlined in the last quarter of 2021. In the face of rising costs, many businesses are seeking to save their money for core business activities.
One of the biggest benefits of LaaS is there is no need for upfront capital expenditure with fixed costs providing greater predictability. Underlying electricity costs are reduced significantly following the installation of energy efficient LED lights, and the savings generated are used to cover the monthly service charges. The savings generated will continue to increase year on year, and even continue after payments have finished.
I just want hassle free lighting – is Lighting as a Service the answer?
Using our service-based model, not only is your lighting system designed and installed to your specific requirements, but maintenance is also included as part of the package. This eliminates the cost and hassle of maintaining inefficient legacy lighting technology. We also believe that lighting should be considered akin to IT infrastructure, therefore upgraded as and when technology advances. LaaS allows for easy upgrades to newer technology as it becomes available.
To learn more about how your business can benefit from service-based models for low carbon technology, download our free guide.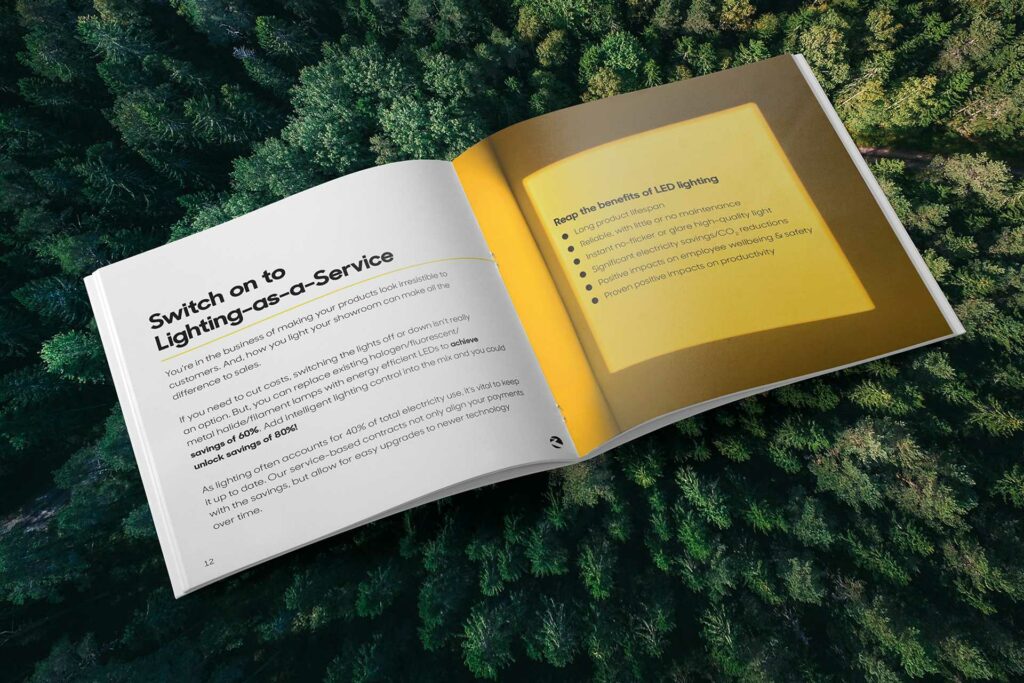 Other blogs you may be interested in.
Are energy price hikes on your mind? It's time to invest in energy efficiency.
---